Melbourne may be best known for its quality coffee and brunch-loving locals, but that doesn't mean it doesn't have more than its fair share of beautifully designed buildings. One of the most recent new constructions worthy of your attention is the Fawkner House apartment complex, built by the teams at Beulah International and Rob Mills Architecture & Interiors (RMA).
Conveniently located a few miles from Melbourne's CBD on Toorak Road West, the new complex is sandwiched between Fawkner Park and the Royal Botanic Gardens of South Yarra. Beyond lattes and brunch, Melbourne is also loved around the world for its beautiful parks, two of which actually flank Fawkner House and cement it in Melbourne's natural beauty.
While its location is a key part of Fawkner House's appeal, its inspiration was drawn directly from a very different location, in Ronchamp, France. The shape of the structure was directly inspired by Notre Dame du Haut, a famous 1955 chapel designed by Le Corbusier that remains on the UNESCO World Heritage List.
---
---
RELATED: Vietnamese architects are building a family home using a single block the size of a parking lot
With many design elements showcasing the curves of Le Corbusier's chapel, this inspiration can be seen both inside and outside the building, such as the lobby floor which features a semi-circle of Calacatta Viola marble. Elegantly swept curves soften the visual impression presented to you, playing with light in a way that adds texture and celebrates understatement.
"There are many reasons we love curves in our work, but the most common is the way energy and light naturally flow when intersections are rounded and softened," said the interior designer. of RMA, Mills.
"That leads to fewer shadows, and light is obviously something else we're known for in our designs."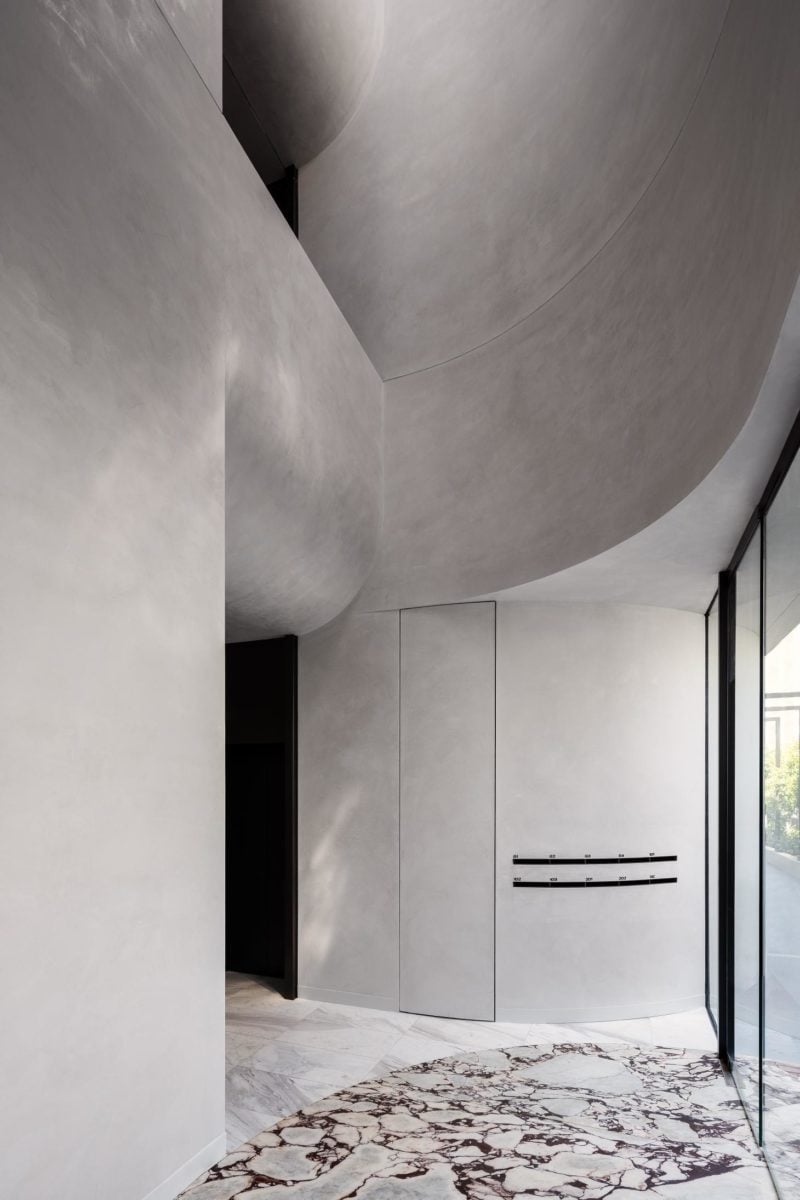 The apartments themselves have spacious 3 meter high ceilings, as well as their own curved walls which introduce a common thread between the building's public and private spaces. Hand-stained dark wood and marble contrast the otherwise bright rooms, while the front door to each apartment was a bespoke creation by Pittella.
Although they obtained planning permission to build more, the architects focused on quality rather than quantity, designing just nine apartments, each benefiting from maximization of space and light. Likewise, terraced balconies use their space thoughtfully with the inclusion of garden beds, designed by landscape architect Paul Bangay.
So if you have a keen eye for design and are looking for quality construction in a premium location in Melbourne, Fawkner House is worth considering. Three-bedroom apartments start from $5,555,000.
---
---